Agile Scrum Taboo is a very quick game, considered as an everyday workshop, that arouses curiosity about Scrum events, methods, and celebrations. I've played it for the first time with Barry Overeem on ABE 2017 in Warsaw. The game presented by him was slightly different and can be found on Barry Blog.
Preparation.
In order to play Agile Scrum Taboo, you need to prepare cards with some words, which will be guessed by players. You don't need to stick with Scrum connected ones. Feel free to include some Kanban or Waterfall terms as well just to make the game harder. Feel free to print a set of words connected with Scrum.
Rules of the Agile Scrum Taboo
The game is very easy and can be held anytime. Very good idea is to play this game after the Daily. So how o play it?
Give a first player pile of cards and start the counter.
The Player has 30 seconds for explaining as many words as he can.
The player can toss the card to the bottom of the stack and take the next card.
Taking the next card does not extend 30 seconds time.
If any other player guesses correctly, then he takes the card.
After 30 seconds move the stack to the next player.
After the game
The player with most points after a couple of iterations is the winner and receives a cookie. Moreover, the whole team should go through all unknown words and clarify them.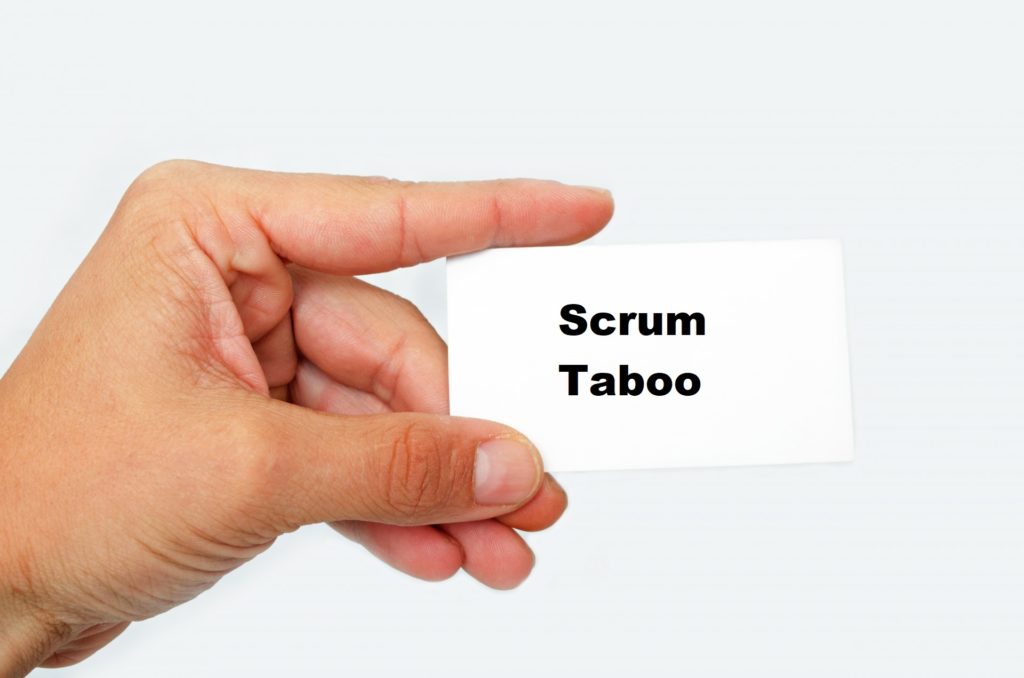 What words should you use for the Agile Scrum Taboo game?
Agile Taboo is a game in which you can use more words than just those combined with Scrum. If you don't know what words to use you can always start with a standard Scrum. Here is an example list of words that can be used to play the Agile Scrum Taboo game:
Scrum
Focus
Courage
Openness
Commitment
Respect
The Scrum Team
Scrum Master
Product Owner
Stakeholders
The Development Team
Impediment
Facilitation
Definition of Ready
Definition of Done
Backlog
Product Backlog
Sprint Backlog
Backlog Refinement
Ordered (Backlog)
Burndown Chart
Potentially Shippable (Releasable)
Planning Poker
Team Estimation Game
Sprint
Sprint Goal
Daily Scrum
Sprint Planning
Sprint Goal
The Scrum Guide
Scrum Values
Empiricism
Transparency
Inspection
Adaptation
Daily Scrum
Sprint Review
Sprint Retrospective
self-organizing
cross-functional
priority
Increment
potentially releasable
servant-leader
coaching
time-boxed
one month or less
time-box of 8 hours or less
capacity
velocity
time-box of 15 minutes
24 hours
complexity
time-box of 4 hours or less
time-box of 3 hours or less
framework
improvement
feature
Product Backlog refinement
10% of Dev Team capacity
estimate
Agile Manifesto
Individuals and interactions
processes and tools
Working software
comprehensive documentation
Customer collaboration
contract negotiation
Responding to change
following a plan
Demo
Business value
Business risk
Continuous Delivery
Continuous Integration
Technical Debt
Code review
Ken Schwaber & Jeff Sutherland
User Story
Story Points
Communication
Agile