It is a question that I was really curious about. So I decided to find out what is the best agile estimating method and I've made a survey and I asked many people for help. You can read more about the results and download the report here.
To be honest I thought that swimlanes will be a clear winner. Instead, I learned that not only I was wrong, but even more that there is no direct answer to my question. Why? Because (as always) it depends…
What factors I considered when looking for the best agile estimating method?
I considered Ease, Speed, and Accuracy as three key factors. The ideal method should be 100% accurate, super-fast, and self-explanatory. Of course in the real-world, such a method does not exist, so I end up with three rankings one for each factor.
In each ranking I calculated:
Raw score – average values for respondents who answered questions about the method. Respondents answered only questions about the methods they worked with.
Relative score – calculated from raw score in order to highlight differences, because of the similarity of votes. Formula used was 10 * (R – 0.5 * MIN(R)) / MAX(R – 0.5 MIN(R)).
Accuracy
Respondents answered a question regarding their opinion on how accurate the method is. The most accurate methods are Planing Poker, Expert Judgement, and Divide until Maximum Size or Less.
Ease
Respondents answered a question regarding their opinion on how easy to explain the method is. The easiest methods are T-Shirts, Dot-Voting, and Expert Judgement.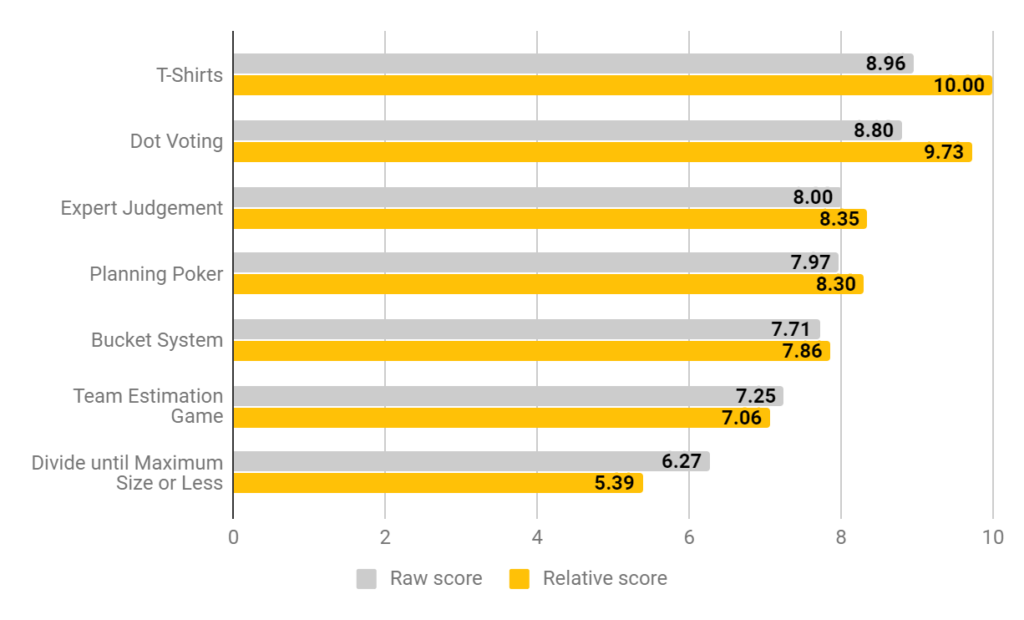 Speed
Respondents answered a question regarding their opinion on how fast the method is. Results show that the fastest methods are Dot Voting, Bucket System, and T-Shirts.
Context
It is important to mention that respondents also answered what method they recommend for different cases. The results were more predictable this time. Basically, with a larger scope, people tend to accept lower accuracy for higher speed. If you feel that this is something you need – take a look at the full list of recommendations.
The best agile estimating method to use in generall?
Knowing that there are different things in which methods are better or worse you should pick the best for your needs yourself. For my personal reasons, out of curiosity, I multiplied score given for Ease, Speed, and Accuracy. That means each method can get up to 1000 points. Now I know that next time I am about to estimate something I will at least give Dot Voting a try.
Important hint!
I would like to end with a strong hint. As long as you are familiar with many methods, you can easily choose the one that fits your needs in a given scenario. If you know only one method, then you will be always using it and because of the Law of the instrument, you will believe it fits.